Look around and you might notice there are more Kias on the road than ever before. It's not an illusion! In fact, more and more buyers are discovering the Kia brand. Automotive journalists agree, bestowing perfect 10/10 ratings on popular models like the Telluride. As your premier Conshohocken Kia dealer, Raceway Kia stocks a huge selection of the most popular Kia models.
It's a great time to join the growing Kia family of happy owners. From sports sedans to full-size SUVs, you're sure to find the perfect vehicle at a price you can afford. The Kia lineup is perfect for all kinds of buyers. Are you a first-time owner? Do you need an economical vehicle for your daily commute? Perhaps your family is growing and you need a bit more space? You'll find it here.
Whether you buy new or used, you'll find a great selection of vehicles here at Raceway Kia. We price our vehicles competitively, so you never have to worry whether you're getting a good deal. Our goal is to earn your business for life, so you can expect world-class customer service, zero haggling, and no hidden fees or high-pressure sales tactics when you buy from us.
We invite you to stop by for a test drive, or you can scroll through our entire new and used inventory online from the comfort of your own home. Either way, we hope you'll consider adding a Kia to your driveway and join the Kia family of happy owners. You'll be glad you did.
All About the Dynamic Kia Brand 
Kia continues to dominate the new and used car market, thanks to an unwavering commitment to value, reliability, and style, along with one of the best warranties in the business. Kia takes customer satisfaction seriously. As an owner, you can expect the same attentive service and support that you received when you purchased your vehicle. It's why more and more drivers are becoming Kia customers for life.
Kia is at the cutting edge of automotive innovation, with new electric models that achieve upwards of 300 miles of driving range and hybrid options for many of its most popular vehicles. The automaker is committed to launching 16 new cutting-edge vehicles by 2025 with advanced powertrains, many of which will include alternative fuel capabilities. Considering so many of its current model year vehicles already achieve class-leading fuel economy, it's not surprising.
Engineering innovation isn't the only goal for America's fastest-growing nameplate. Kia is also on the cutting edge of connected technology. Kia Connect allows drivers to integrate their smartphones and smart home devices into their Kia's infotainment system. Kia Connect turns your smartphone into a vehicle hub and a key fob. From the app, you can lock/unlock doors, remote start your vehicle on a chilly morning, and monitor key vehicle data, like fuel level and upcoming maintenance requirements.
Maybe most exciting of all is Kia Drive Wise, a suite of features designed to keep drivers alert, stave off fatigue, and optimize safety for all vehicle occupants. Kia Drive Wise includes automatic braking, alerts for oncoming cross-traffic and lane drifting, and even a Driver Attention Warning that monitors your steering and attention level, alerting you when it's time to take a break.

The 2022 Kia Lineup Highlights 
What's exciting for 2022? How about an SUV lineup that includes seven different models ranging in size from subcompact fuel sippers to full-size, 3-row people movers. From the quirky and spirited Kia Soul to the wildly popular Telluride, buyers can choose from an amazing assortment of utes to dial in the exact size and price that works for their individual lifestyle and budget.
Kia is one of only a few automakers that continues offering a minivan in the 2022 model year. The Carnival, officially known as a "Multi-Purpose Vehicle," receives a 9/10 rating from Car and Driver for its stylish exterior lines and Range Rover-esque curb appeal. The Carnival comes in five trims, including the high-end SX Prestige, which includes leather seating and a 12-speaker Bose audio system.
Sedan lovers won't have to look outside the Kia lineup to find an ideal car for their needs. There are five different popular cars bearing the Kia name, which makes us wonder why other automakers are eliminating sedans from their lineups. Choose the Rio sedan or hatchback for affordable commuting, or if you need a bit more room, consider the practical Forte, a compact sedan with a price tag under $20,000.

We Are Raceway Kia of Conshohocken 
Raceway Kia of Conshohocken is your headquarters for the best prices and the largest selection of new and used Kia vehicles in the Conshohocken area. New Jersey buyers love our dealership because our staff is committed to delivering world-class customer service throughout your purchase and ownership experience. If you're sick of high-pressure sales tactics and long, drawn-out negotiations, we invite you to discover Raceway Kia of Conshohocken.
Along with our team of dedicated and experienced sales consultants, we also staff the best finance pros in the business. They'll scour available lenders to uncover the most aggressive lease and loan rates, so you're sure to stay within budget and receive all available rebates and special offers. Your purchase experience isn't complete without a pleasant and easy financing experience, and when you buy from us, that's exactly what you'll receive. Kia vehicles have some of the highest residual values of any brand, so choosing to lease is a great way to keep your payments low.
Raceway Kia of Conshohocken is also where you'll find a state-of-the-art service facility staffed with factory-trained technicians who are Kia vehicle experts. They're skilled at performing all required maintenance, including oil changes and diagnostic inspections, as well as more comprehensive mechanical repairs. Service and maintain your Kia with us and enjoy worry-free expert care. You can even schedule your appointment conveniently online.
With a sales and service team that's top-notch and our one-of-a-kind buyer and customer benefits program, the Raceway Pit Stop Advantage, you'll feel like an insider the moment you step through our showroom doors. Find out more by visiting us today, and learn how you can test drive one of our vehicles for a full 24 hours. That's just one of the many perks of working with Raceway Kia!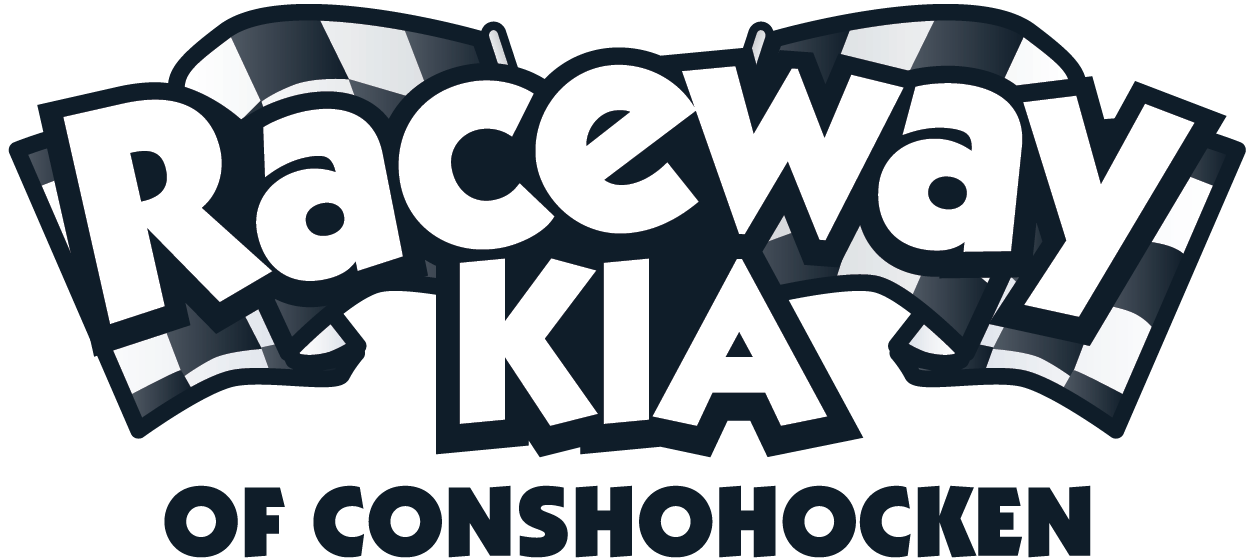 Find Your Dream Kia Here at Raceway Kia of Conshohocken
Providing great service and support to Kia buyers begins with offering a huge selection of options. We don't want you to have to drive all over town looking for the Kia you want, which is why we constantly refresh our inventory with new and used models. You're guaranteed to find your dream Kia right here at Raceway Kia, and you'll get an amazing price.
Your purchase experience includes the Raceway Pit Stop Advantage. Exclusively ours, the Raceway Pit Stop Advantage includes a bunch of buyer benefits, starting with a 24-hour no-obligation test drive. We believe you should spend time getting to know a vehicle before you purchase it. We also offer a 3-day no-questions-asked exchange policy, so changing your mind won't turn into a stressful experience.
The Raceway Pit Stop Advantage also includes complimentary oil changes for two years and free car washes for the entire time you own your Kia. We provide our customers with complimentary 160-point inspections throughout the ownership period as well, so you never have to worry about hidden mechanical issues or safety concerns. We'll have a loaner vehicle waiting every time you visit us for service, too!
There's no better place to shop, buy, and service your Kia than Raceway Kia. We are proud of our glowing customer reviews and hope you'll trust us to provide expert advice and ongoing support throughout your Kia purchase and ownership experience. Stop by today and browse our extensive inventory of Kia vehicles.