As you take in the views of the Delaware River or coast into Philadelphia for a weekend on the town, you'll want to do so in a vehicle that meets and exceeds your expectations. There's a lot to see and do in Norristown, from arts and culture to parks and historical sites, and when you want to enjoy our area to the fullest, many residents gravitate toward Kias. Not only is the Kia lineup versatile, stylish, and capable, you'll have your choice from a number of new and used models, especially when you shop at your top Norristown Kia dealer, Raceway Kia of Conshohocken. Whether you're searching for a car to take you into Philly for work or one that can navigate snowy terrain in the winter, you'll find it in the Kia arsenal. Explore why Raceway Kia of Conshohocken will make your car buying experience better in every possible way with a team dedicated to your success and a lineup of Kia models that won't disappoint.
At Raceway Kia of Conshohocken, You Finish First
You never want to worry about whether or not your vehicle will be able to get you everywhere you need to go, which is why you're interested in a Kia in the first place. You have options when it comes to who to shop with, and shopping with us will allow you to take advantage of many perks along the way. This includes our Lifetime Powertrain Warranty, which you'll get to enjoy at no additional cost. This exceptional warranty is available on most of our new and used models, adding enhanced peace of mind to your journey, whether it takes you into the City of Brotherly Love or out to explore the Norristown Farm Park trails. We only ask that you keep up with your vehicle's maintenance needs, and in turn, you'll be covered for the life of your vehicle with no mileage restrictions!
The perks don't end there, though. At Raceway Kia of Conshohocken, you also get to take advantage of complimentary services, like lifetime car washes, oil changes for two years, roadside assistance, and more. We also provide lifetime 160-point safety inspections, free annual state inspections, complimentary loaner vehicles, plus free alignment checks for the life of the vehicle. With us, you get to enjoy a lot of benefits so that you won't have to worry about your vehicle, no matter where you're traveling in PA and beyond.
The great part about living in Norristown is the close proximity to popular cities like Philadelphia, Wilmington, and Trenton. Whether you're meeting friends or commuting to work, choosing a Kia means that you'll have a reliable car leading the way. Our customers always finish first when they choose to make Raceway Kia of Conshohocken the dealership they trust when it comes to their travels. It just makes it even better that you get to enjoy added perks, in addition to a vast selection of vehicles and friendly, knowledgeable professionals.

New or Used, We Have the Kia for You
No matter what your budget is, we have the Kia that will fit into your finances. If you're looking for a brand-new model, we have plenty, including some of the most popular models available, like the affordable Forte and the spacious Telluride. Our selection of new offerings includes models that are destined to maximize your travels, like the family-friendly Carnival, and a lineup of electrified options, like the Sportage Hybrid and the EV6. The big draw to buying new is the fact that you get to enjoy all of the latest features available in the industry. From top-of-the-line tech to modern styling, buying new will allow you to experience these advancements first-hand.
Many Norristown shoppers choose to buy used because of all the benefits that go along with this decision. For example, you're able to select from a wide variety of options with features that you may not have been able to afford brand-new, but now the models are a couple of years old, they're more financially attainable. Our used lot is stocked with options, like the crowd favorite Forte and roomy Optima, spacious Sorento and exciting Stinger, and many more. No matter what your plans are for your travels, whether you're road-tripping it across Pennsylvania or checking out the local Norristown art scene, there's a Kia that will heighten your travels.
We showcase some of the best options in the Kia inventory right here on our lot. We understand that every driver has different needs and budgets, which means that our selection must be versatile. It also helps that we have an experienced staff with expert knowledge about the Kia brand to help guide you to the right choice. With us, you get it all, which is why more Norristown residents are choosing to team up with us.

Maintain Your Kia With Raceway Kia of Conshohocken
Another reason why Norristown area drivers choose to shop with Raceway Kia of Conshohocken is that we never stop working for you. Maintaining your car is one of the most important responsibilities of vehicle ownership, and from routine maintenance to repairs, it helps to know that you have a team to help out. At our service center, you'll get to enjoy the very best service, whether you buy new or used. From oil changes to tire rotations, brake replacements to new batteries, and more, our team of certified service techs is ready to lend a hand.
Service is a vital aspect of owning a vehicle, and not just because it keeps it running smoothly, but for many other reasons as well. It increases your vehicle's resale value, as well as extends the life of your car. Regular service also allows it to perform at its absolute best, delivering a ride quality that you desire for all of your travels. That's why it pays to partner with a team that has the knowledge and experience to keep your car performing at its peak mile after mile, which is exactly what you'll find with us.
Not only can you trust us to handle all aspects of your vehicle's maintenance needs, but we also offer service specials, express service, preventative maintenance, and more to our customers. We go the extra mile for you so that your vehicle can perform for miles as well. When you purchase a Kia, you know that you've made a good choice, especially when safety and reliability are top priorities, and having a dedicated staff to help you maintain this fine machine is key. From genuine Kia parts to accessories, we have it all at our service center to help you remain safe and happy in your Kia.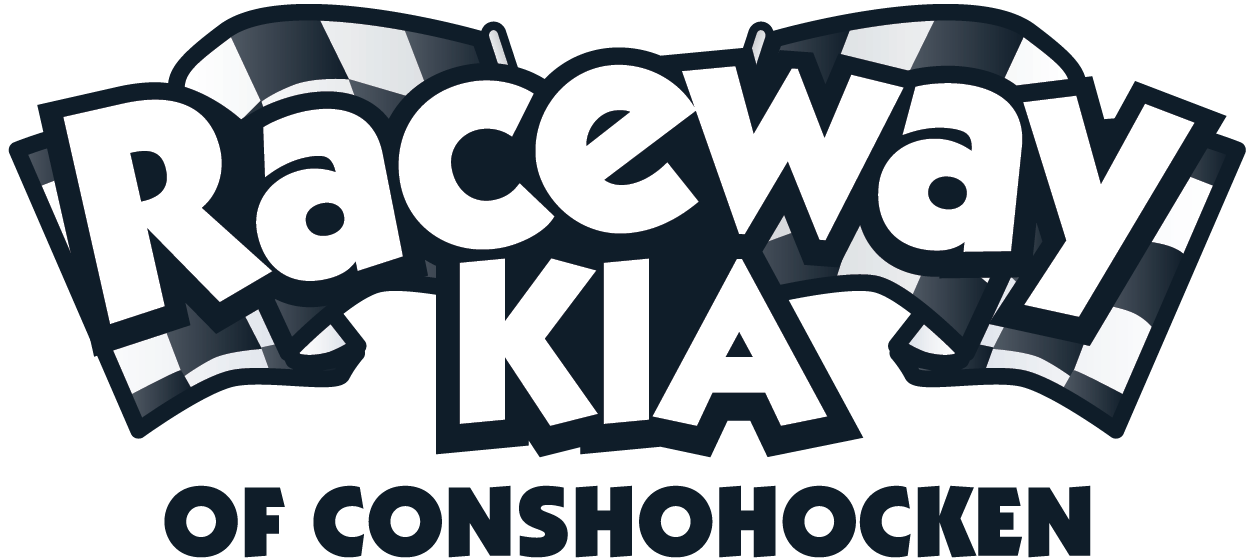 Shop Now to Find Your Perfect Kia
You may be sold on the idea of buying a Kia, but when it comes to who to buy it from, you have a decision to make. Let Raceway Kia of Conshohocken make that decision easier by offering plenty of perks, a remarkable inventory, and a staff that never stops working for you. We provide a first-class shopping experience from the moment you step through our doors to the moment you drive away in your new car. So, whether you're hopping onto Main Street for breakfast at the Main Street Café or spending an afternoon at the Elmwood Park Zoo, there's a Kia available in our inventory that will make your journey safer, more fulfilling, and more exciting. Partner with Raceway Kia of Conshohocken and see why so many Norristown drivers are choosing to elevate their car buying experience, shopping from a fine selection of new and used models, and working with a team that places you first.